15% off to Build Your Next Cosplay
*Must use emailed code to receive 15% off. Discount cannot be combined, transferred, or applied on already existing discounts. The offer will be applied upon you entering the discount in checkout. Good for one use only. Offer valid from the date range specified on the email. Not applicable on gift cards or wholesale orders.
Build your next Cosplay outfit with our 15%* off sale. Just signup to
our newsletter to save instantly on costumes, accessories, wigs,
weapons, masks – everything you need to make your costume special.
Valid Till May 21, 2025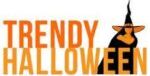 Activate Deal