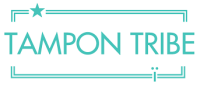 Visit Website
Tampon Tribe
---
Period Underwear! Reasons Why You Need Ours ⬇️
Ashers has four layers of leak-proof, moisture-wicking and fast-absorbing woven-organic threads to create the thinnest period, pee-leak and post-partum undies available.
Many people can go it alone with our undies, as they can hold up to 5 tampons-worth of fluid – others like to feel safe and secure by wearing Ashers with their tampons for worry-free heavy days. And when you know your period is coming, it's great to pop on a pair "just in case"!
---