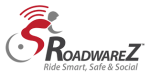 Visit Website
Roadwarez
---
THE WORLD'S FIRST SMART BACKPACK — IT'S A COMMUTER GAMECHANGER
REAL-TIME GPS TRACKING (IDEAL FOR PARENTS).
Follow the biker's route so you ALWAYS know where they are and if they're safe. For parents, no need to worry. Integrated LED turn, motion and braking signal lights — manually or automatically activated via the GPS app… this saves lives. And it's not just safer commuting. The emergency and I'm-off-the-route alerts make this great for parents of kids too."
Fox news
RoadwareZ inventor Yeshaya Krispin was driving in South America when he watched it happen live — a cyclist fatally hit by an unaware truck driver.
He vowed to reverse the disastrous trend: 857 cyclists were killed in traffic collisions in the United States in 2018 alone. With all of the technology available, why was no one doing anything about it?
Yeshaya took on the challenge!! With a team of high tech innovative pros, $2.5 million and four years later, the RoadwareZ answer is a reality!!
This cutting-edge patented backpack boasts GPS or voice-activated LED handsfree highly visible signalling, safe-route programmable navigation, tracking, emergency notification and other pioneering features. The cyclist can keep his eyes stay on the road, secure that he can be seen by all.
---