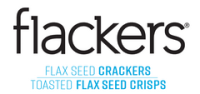 Visit Website
Flackers
---
Flaxseed is healthy and delicious.
It's also one of the world's oldest, most important, and potently nutritious grains.
Quick Flax Facts
Flaxseed is high in alpha linoleic acid (ALA), an omega-3 fatty acid that is heart-healthy and rich in anti-inflammatories. Flaxseed also contains soluble and insoluble fiber, which helps to maintain normal cholesterol levels and promote optimal bowel function. They're a rich source of plant lignans and many vitamins and minerals, making this tiny seed a healthy, wonderful nutritional gift.
Crackers made entirely from flaxseed + simple ingredients. Keto-friendly, plant-based, gluten-free, and delicious. Shop now!
---